Federer targets 2012 London Olympics
Federer targets 2012 London Olympics
Swiss maestro has never won a singles title at the Olympics in three attempts
Federer says he loves the game too much to consider retirement just yet
World number two completed career grand slam at this year's French Open
LONDON, England (CNN) -- Roger Federer says he has no intention of hanging up his tennis racket any time soon and has targeted the 2012 London Olympics which will be held on the grass of Wimbledon.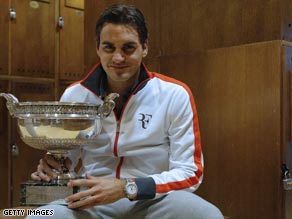 Roger Federer finally gets his hands on the French Open title after beating Robin Soderling.
The Swiss maestro completed a career grand slam when he beat Robin Soderling in the final of the French Open on Sunday.
It also took him level with the all-time record of 14 grand slams held by American great Pete Sampras.
With Federer set to become a father for the first time later this summer, it led some to speculate that Federer might consider retirement over the next few years.
But he told CNN in an exclusive interview that his motivation was still as strong as ever.
"I love the game too much to walk away from it," he said.
"My wife wants me to play on for many more years so our child can see me play, that has been a big dream.
"Definitely until the 2012 Olympics in London, which will be held at Wimbledon," he added.
Federer has won the Wimbledon title five times and was beaten in an epic five-set final last year by world number one Rafael Nadal.
His record at the All England Club will be added incentive for the 27-year-old to extend his career until 2012 in search of elusive first gold in singles at the Olympics.
He was knocked out in the semifinals at the 2000 Sydney Games, the second round in Athens in 2004 and quarterfinals in Beijing last year to James Blake.
But Federer did pair with Stanislav Wawrinka to win gold for Switzerland in doubles at the 2008 Games.
Federer spoke to CNN after his three-set victory over Soderling at Stade Roland Garros. .
He said he was relieved to have won a grand slam again after losing the world number one slot to Nadal and giving up his Wimbledon and Australian Open titles to the Spaniard.
"It's been a fantastic day -- to get the elusive French title in the end was unbelievable. I always believed I was good enough to get it - but holding the trophy, after all I've been through was just unbelievable. I'm so proud right now you can't believe it."
Soderling, who put out Nadal on the way to the final, also praised his Swiss conqueror.
"For me he is the best ever and I should know as I've player him many times," the world-ranked number 12 told CNN.
Roger Federer Defeats Alejandro Falla in 2012 Olympics First Round, Bleacher Report
Roger Federer Defeats Alejandro Falla in 2012 Olympics First Round
Roger Federer's 6-3, 5-7, 6-3 win over Colombia's Alejandro Falla in the first round of the 2012 Olympics tennis was full of shaky drama and momentum for the Swiss Maestro's fans.
For the first half of the match, everything went according to script with Federer's easy-going efficiency. Then trouble struck, and the match was on.
Perhaps a bizarre foreshadowing was cast with the Olympics feel to the match. Gone was the traditional Wimbledon white attire in a match that looked like Red Swiss Nike vs. Golden Yellow Babolat.
The match had a feel of a Masters 1000 tournament with its best-of-three format, and the action unfolded quickly
In the first set, Federer cruised behind a solid serve and dictated pace with his forehand. His 6-3 win featured 16 winners against five unforced errors, while Falla had four apiece. Federer also capitalized on his only break chance.
Federer continued to roll into the seventh game of the second set. At 15-15, Federer stepped into a backhand and hit a clean cross-court winner that emphasized the completeness to a so-far efficient day. He went on and completed the break.
But at 5-3, Federer wobbled in closing out the match. Falla scrapped back to hold and looked visibly rejuvenated.
Falla then stormed out to a 15-40 lead in the next game. He was still scrambling further behind the baseline, but found an opportunity to come in on a couple of Federer's short balls.
Suddenly the momentum changed and Falla was slicing his backhand, scurrying and clawing his way with every point. Federer began to pile up errors and there was a nervousness about his game. He tried to hit quick forehand and backhand winners and seemed reluctant to patiently slice or extend points with the resurgent Colombian.
Falla broke again and stormed off with a shocking 7-5 second set victory. Federer only capitalized on one of seven break points while Falla was more opportunistic with two of three.
As usual, Federer's struggle was framed by 14 unforced errors in the set.
Federer opened the third set by removing the pressure with an immediate break. His focus was back and he hopped with greater energy on his split steps and between points.
But Falla contined to fight back. He held serve in the third game and came back with another big break to level things again.
The pressure was mounting for Federer. Even when he played a good point, Falla stayed in. At 30-15, Falla kept pounding the Federer backhand as if he had studied the Rafael Nadal formula for success. Federer found a chance to come to net, but Falla ripped a corner to corner pass with his backhand that signaled his determination to fight to the end. He held again.
Federer struck back in the seventh game of the decisive set with two break point opportunities, the second one a winner as he turned Falla around with a forehand winner.
From then on, Federer held on to his lead and ended the match with another break and a 6-3 win. The third set was well played by both players. Federer had 13 winners and seven unforced errors while Falla was eight and two.
Up next for Federer is France's Julien Benneteau who took Federer to five sets in Wimbledon's third round.
Federer Outclasses Nadal in Shanghai Final
Sharapova Wins 1st Title Since Drug Ban
Nadal, Fed Will Match Up in Shanghai Finals
Clijsters to Serena: 'Follow Your Heart' on Pregnancy Return
Copyright © 2017 Bleacher Report, Inc. Turner Broadcasting System, Inc. All Rights Reserved. BleacherReport.com is part of Bleacher Report – Turner Sports Network, part of the Turner Sports and Entertainment Network. Certain photos copyright © 2017 Getty Images. Any commercial use or distribution without the express written consent of Getty Images is strictly prohibited. AdChoices
Turner Logo
Andy Murray beats Roger Federer to win gold - London 2012 Olympics, Daily Mail Online
28 days later! Murray avenges for Wimbledon final as British star claims another gold for Team GB after dominant win over Federer
Published: 16:14 BST, 5 August 2012 | Updated: 18:16 BST, 5 August 2012
Andy Murray followed one of the greatest days in British Olympic history with one of the best performances British tennis has ever seen as he crushed Roger Federer to win London 2012 gold.
Murray exacted the sweetest revenge possible for his tear-jerking Wimbledon final loss by inflicting Federer's heaviest ever defeat at the All England Club and winning his country's first men's singles title since 1908.
Flying the flag: The British No 1 parades his gold medal to the delight of the home support
Net gains: Murray looks to he heavens after beating Federer 6-2, 61, 6-4 on Sunday afternoon
The 6-2, 6-1, 6-4 victory margin was scarcely believable against the man who stopped him becoming the country's first men's Wimbledon singles champion for 76 years just 28 days ago, who was desperate to enhance his claim to be the greatest player of all time by clinching a career golden slam.
Murray had little time to celebrate the win as he prepared to go for another gold in the mixed doubles.
What a difference 28 days makes: Murray stormed to victory at Wimbledon after turning in a fine display
Murray was in uncharted territory in a five-set contest against Federer. He had lost every one of their grand slam matches, despite their overall 8-8 head-to-head record.
The Swiss had also won more than once from two sets down at Wimbledon but, after two comfortable holds at the start of the third, he was pummelled into submission again by Murray's crosscourt backhand.
You can't hurry a Murray (or so they say): The British No 1 put Federer to the sword on Centre Court with a dominant display
Everything Murray touched was turning to gold, while Federer's game continued to disintegrate in a manner never before seen on Centre Court.
Murray had come out firing four weeks ago, breaking Federer in the first game, but today it was the Scot who found himself under pressure as he gave away two break points.
Contrasting fortunes: Murray was on another level compared to Federer as the British ace turned in one of the best displays of his career
He saved them both, though, and that was to prove vital as he went on to win the first set.
Federer was making a lot of unforced errors while Murray gradually raised his level and, after missing a chance to break in the fourth game, moved ahead in the sixth when the world No 1 could not handle a fizzing backhand.
Centre Court was rocking, and the noise level increased again when Murray broke to take the set, nailing a backhand pass just inside the line.
Home support: The Wimbledon crowd roared Murray on to glory as they helped create a Davis Cup atmosphere on Centre Court
Murray had talked in the build-up about the rarity of Federer treading new ground and how that levelled the playing field, and he was certainly not showing the same form he did at Wimbledon.
There was a lot on the line for the Swiss player, who is unlikely to have another chance to win a singles gold medal, the only major honour missing from his trophy cabinet.
Tension had crackled around Centre Court in the Wimbledon final but today it seemed to have homed in on Federer's racquet. Even the net was on Murray's side as two bits of luck helped him break for the third time in a row to lead 2-0 in the second set.
In the stands: Andy Murray's girlfriend Kim Sears assumes her position on Centre Court to cheer on her partner
The key game of the match followed as Federer threw everything at Murray in an effort to get back on terms, forcing six break points, but every time he was repelled.
The crowd sensed it was vital he held on, and remarkably he won an eighth straight game when Federer double-faulted, and then a ninth before the Wimbledon champion finally stopped the rot.
There was an air of disbelief on Centre Court, could this really be happening? Federer had a chance to pull one break back but again Murray held firm to move into a two-set lead.
Team Murray: Andy made his way into the stands to celebrate his straight-sets victory over Federer
BRONZE MEDAL MATCH
Argentina's Juan Martin Del Potro won the bronze medal in the men's singles after upsetting second seed Novak Djokovic 7-5 6-4 on Wimbledon's Court One.
Del Potro lost a marathon semi-final encounter to Roger Federer on Friday and left the court in tears, but he roused himself physically and mentally to earn his place on the podium.
Djokovic, beaten by Andy Murray in the last four, was the bronze medallist in Beijing four years ago but he ceded first blood when his serve was broken in the 11th game.
He had two chances to break back and force a tie-break but Del Potro held on, and the Argentinian broke again to lead 2-1 in the second set.
Djokovic tried to respond but there was no way back and for the Serb there was only the agony of finishing fourth.
Federer had played for almost four and a half hours on Friday in beating Juan Martin Del Potro in a titanic semi-final and his movement was certainly not up to his usual standard.
But that was to take nothing away from Murray, who was pinning the great man back with the ferocity of his groundstrokes, particularly his cross-court backhand.
A two-set lead was still far from victory of course, with Federer having come back from two sets to love down to win on many occasions, including against Julien Benneteau at Wimbledon.
Often Murray has a dip at such moments but not today, he simply maintained the same excellent level and broke again with another superb backhand. Federer prevented the Scot moving 5-2 ahead and then forced him to serve it out.
The nerves must have been coursing through Murray's body but he did not show it, two big serves bringing up match point before the final coup de grace.
The world No 4 celebrated the finest win of his life by climbing up to the players' box to celebrate with friends and family, and it could yet be double gold with the mixed doubles final still to come.
Murray hailed the biggest win of his career. 'It's No 1 for me,' he told BBC1. 'The biggest win of my life. This week's been incredible so far.
'I've had a lot of fun, the support's been amazing. One more match to go, but it's been unbelievable.'
Murray said he was inspired both by the performances of his Great Britain team-mates and the crowd, who were unusually boisterous for SW19.
'They're unbelievable,' he said. 'It's not just here but all of the events I've watched. I watched the athletics last night it was amazing.
'The way Mo Farah won. I do 400m repetitions in my training and when I'm completely fresh I can run it in 57 seconds and his last lap after 9,600m was 53 seconds. It's just unbelievable fitness.
Centre of attention: Murray provided the Wimbledon crowd with some exhibition celebrating
'It gave me a boost coming into today. The momentum the team's had the last couple of days has been so good.'
Murray admitted the achievement had surprised even him. 'I didn't expect that at the start of the week,' he said.
'I had a chance of going deep into the tournament [but] I was a little bit tired after Wimbledon, and playing the mixed as well.
'But I felt so fresh. On the court today I didn't really feel nervous at all apart from at the beginning of the match.'
Murray felt his victory was the perfect way to recover from his Wimbledon disappointment. 'It's worth it,' he said. 'I've had a lot of tough losses in my career. This is the best way to come back. I'll never forget it.'
ANDY MURRAY'S MILESTONES : SPORTSMAIL LOOKS BACK AT ANDY'S CAREER HIGHLIGHTS
Immense: Murray hammered Roger Federer in one of his many career highlights to take Olympic gold
US Open junior title (September 2004) : Murray's talent for tennis was evident from an early age. He won the prestigious Orange Bowl in Florida aged 12 and went to train in Spain when he was 15 to develop his game. Victory over Sergiy Stakhovsky in the final of the US Open juniors cemented his position as Britain's brightest hope.
Making a mark on grass (June 2005) : Wild card Murray reached the third round at Queen's and was in a winning position against former grand slam winner Thomas Johansson before succumbing to cramp. It was a similar story on his senior Wimbledon debut as he beat world number 16 Radek Stepanek in round two and went two sets up against David Nalbandian only to lose in five.
First ATP Tour final (September 2005) : Murray enjoyed a superb run to the final of the Thailand Open in Bangkok but found world number one Roger Federer one obstacle too far. The run took him into the top 100 for the first time.
Maiden ATP Tour title (February 2006) : Andy Roddick was the Scot's first top-10 victim as he beat the world number three in the semi-finals of the SAP Open in San Jose. He then defeated Lleyton Hewitt in three sets to lift the trophy, climbing into the top 50.
Team Murray (December 2007) : The Lawn Tennis Association hired coach Brad Gilbert to work with Murray but the young Scot knew it was not for him. After only 18 months together, Murray ended the arrangement and assembled his own team of coach Miles Maclagan plus fitness trainers, a physio and various friends.
Wimbledon thriller (June 2008) : Murray gave the Centre Court crowd a rollercoaster ride as he came back from two sets down to beat Richard Gasquet and reach the quarter-finals for the first time. He was well beaten by Rafael Nadal, though.
Masters magic (August 2008) : The Scot won his first Masters title in Cincinnati, beating Novak Djokovic in the final.
US Open breakthrough (September 2008) : Murray and the US Open always seemed made for each other. After coming back from two sets down against Jurgen Melzer in round three, 21-year-old Murray beat Nadal for the first time, in a marathon match over two days. Federer was a class act in the final, however.
Back-to-back titles (October 2008) : Murray's US Open heroics lifted him to number four in the world for the first time and he cemented that position by winning the Madrid Masters, beating Federer in the semi-final, and successfully defending his St Petersburg Open title. He also qualified for the Masters Cup for the first time.
Biggest title (April 2009) : Murray was victorious at the Miami Masters - known as the unofficial fifth major - beating Djokovic in the final.
Ranking milestone (May 2009) : Murray became the first British player ever to be officially ranked number three in the world on May 11. He then climbed to number two in August, albeit briefly.
King of Queen's (June 2009) : Murray reached the quarter-finals of the French Open for the first time and then justified his number one seeding by becoming the first British winner at Queen's for 71 years, his first title on grass.
Getting closer at SW19 (July 2009) : Murray boosted hopes of a first home men's singles winner with a thrilling run to the semi-finals at Wimbledon. He was favourite to beat Andy Roddick but the American produced an inspired display to win in four sets.
Missing out in Melbourne (January 2010): After knocking out Nadal and Marin Cilic to reach the final of the Australian Open, Murray's grand slam hopes were again dashed by Federer. The Swiss triumphed 6-3 6-4 7-6 (13/11) at Melbourne Park.
Another Melbourne final (January 2011) : Back in the Australian Open final, Murray was optimistic he could go one better than in 2010. But he suffered a 6-4 6-2 6-3 defeat against Djokovic and lost three straight first-round matches afterwards.
Nadal has Murray's measure (June-September 2011) : Murray was having his most consistent season, marked by reaching the semi-finals at every grand slam. At the French Open, Wimbledon and the US Open it was the same story, though - Murray was good but not good enough to beat Nadal.
So near and yet so far (January 2012) : Under new coach Ivan Lendl, Murray produced one of his best grand slam performances in the semi-finals of the Australian Open, pushing world number one Djokovic all the way before finally losing out in five sets after almost five hours.
First Wimbledon final (July 2012) : Murray ended the 74-year wait for a British Wimbledon finalist by holding his nerve under intense pressure to defeat Jo-Wilfried Tsonga in the last four. He then won his first set in a grand slam final but Federer was not to be denied, the Swiss winning 4-6 7-5 6-3 6-4.
Olympic Gold (August 2012) : A straight-sets defeat of Djokovic in the semi-finals gave Murray the chance to claim Olympic tennis gold for Britain for the first time since 1908. And he duly delivered as, exactly four weeks since the Wimbledon final, he gained revenge on Federer with what appeared a breakthrough performance, Murray winning 6-2 6-1 6-4 to top the podium.
RELATED ARTICLES
Share this article
Share or comment on this article
Most watched Sport videos
MOST READ SPORT
Comments 356
Share what you think
The comments below have not been moderated.
The views expressed in the contents above are those of our users and do not necessarily reflect the views of MailOnline.
We are no longer accepting comments on this article.
More top stories
Published by Associated Newspapers Ltd
Part of the Daily Mail, The Mail on Sunday & Metro Media Group
Rio 2016 Olympics: Novak Djokovic, Roger Federer, and the world number one hoodoo - Rio 2016 - Tennis
Rio 2016 Olympics: Novak Djokovic, Roger Federer, and the world number one hoodoo
08/08/2016 at 14:51 Updated 08/08/2016 at 16:44
Novak Djokovic has continued the curse of no world number one securing Olympic gold in the men's singles since it was reinstated in 1988.
A tearful Novak Djokovic acknowledges the crowd after his defeat to Juan Martin del Potro AFP
The Serbian is in good company, as Roger Federer failed to win at the 2004, 2008 and 2012 Olympics despite being ranked number one.
Federer's victory with Stan Wawrinka in the 2008 doubles in Beijing does make the trophy cabinet that little bit shinier, but the 35-year-old Swiss will undoubtedly waltz into retirement without a singles triumph in the Olympics to his name.
Switzerland's Stanislas Wawrinka (R) and Roger Federer (C) stand with their gold medals during the medal ceremony for the men's tennis doubles at the Beijing 2008 Olympic Game Reuters
With Djokovic aged 29, questions will be raised as to whether he has another Games in him, and there's no telling where he will be ranked come Tokyo in 2020.
These two goliaths of tennis are not alone, as Sydney 2000 saw then world number one Marat Safin crash out as fifth seed Yevgeny Kafelnikov took gold.
And while we're going down the list, 1992 was the time of Jim Courier, but he fell in the third round while the unseeded Marc Rosset – who never reached a Grand Slam final - won gold.
You missed out 1996…
Why yes, the exception to this world number one rule comes in both 1996 and 1988, and for good reason, as the number ones at the time, Ivan Lendl and Pete Sampras, did not compete.
For Sampras, it was defeat in 1992 and a disdain for the Olympic tennis setup which led to him withdrawing in 1996.
Pete Sampras was critical of the Olympic setup before withdrawing in 1996 AFP
Lendl meanwhile, was enduring a personal battle of his own, vying for American citizenship while still officially a Czechoslovakian. His path to represent USA in 1988 was blocked, and the eight-time Grand Slam champion never got to appear in Seoul.
In their respective absences, '88 gold was snapped up by another Czechoslovakian, Miloslav Mečíř, while Andre Agassi beat a depleted field to win in Atlanta.
Agassi's '96 victory in Sampras' absence makes him the only player seeded first at the Olympics to go on and claim gold since 1988.
But why just one in eight?
So often with the Davis Cup, seeds and rankings seem to go out the window, as national pride and the fervour derived from a different environment appears to bring out the best in the most average of players.
It seems that the Olympics has the same impact, and while losing to Del Potro is understandable, the playing field appears to level itself out when a medal is at stake.
Indeed, Federer found himself losing to an 18-year-old Tomas Berdych in 2004 and the speedy American James Blake in 2008 before losing to Andy Murray in the London 2012 final.
While you could argue that Olympic gold is not the ultimate dream of an up-and-coming tennis player, a tournament is still a tournament nonetheless, and the inability of the world number ones to raise their level above the pack is highly questionable, and one that will no doubt be asked when Toyko rolls along as well.
Video - Euro Papers: Barcelona to lose two stars in January as Arsenal prepare to pounce