Player Interviews, News, Official Site of the 2017 US Open Tennis Championships - A USTA Event
Sam Querrey Interview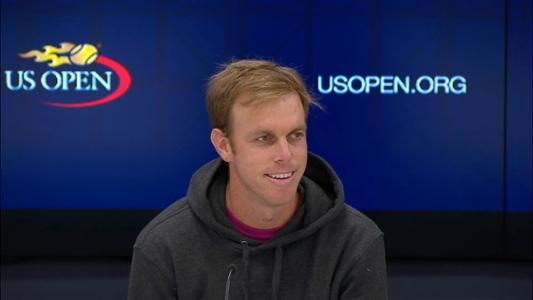 THE MODERATOR: Questions, please.
Q. Did it just take a little while for you to find your rhythm out there?
SAM QUERREY: Little bit. Yeah, it was my first time out there. The shadows were really tough the first 90 minutes. That kind of made things a little tricky to see the ball and really like settle in.
Once I broke him first game of the fourth, kind of settled in a little bit, played a lot better from there. It was a fun four-setter. I think it was good to face a little adversity there. Had to battle in a couple service games in the fourth set. Overall I felt pretty good.
Q. You're the only player in the bottom half who has made a Grand Slam semifinal before. Is it difficult not to think about the opportunity there?
SAM QUERREY: I didn't know that. But it's kind of an irrelevant stat, I feel like. I made one semifinal. Yeah, I mean, the bottom half of the draw has opened up. There's no way to not see that. There's a chance for everyone there.
But, you know, you got to go one match at a time. I play John or Mischa next. Just worrying about that right now.
Q. Mischa is up two sets now. Thoughts on each of them?
SAM QUERREY: I mean, they're both tricky. John is John. He has the best serve in tennis. On any given day, he can beat anyone.
I don't know if I've played Mischa before. But he's having a great year. It's never fun to play a lefty. Most lefties are crafty. He's the craftiest of all the lefties.
Either way it's going to be an uncomfortable matchup. That's not one of the matches, whoever I play, where you go out there and assume I'm going to feel great about my game either way. It's going to be one of those you get a couple chances here and there, try to poke some returns in, worry about your serve, things like that.
Q. How does an open tournament, as you call it, feel different?
SAM QUERREY: I don't really know. It will be weird to have a guy in a final that has never been there before. Outside of that, that's really it. It's just a good opportunity for everyone.
Q. If you look at your year this year, you've never obviously had a year quite like this, can you look back and say this is how it turned it around in the last couple years? Is there a point that you started working on your fitness, something clicked for you? Something obviously clicked.
SAM QUERREY: I said this once before. I think it was in Acapulco, my second round against Goffin. I really clicked in that match, really committed to being aggressive, coming forward. I feel like from that point forward this year, I've just played probably the best I've played in my career.
Q. You said you were going to be uncomfortable no matter what. Does it affect your preparation at all? How does that change your mentality or what you do on the practice court?
SAM QUERREY: I won't change anything. I'll go out and practice tomorrow for 30 minutes. When you're playing a guy with big serves like both of them, you have to worry about your own serve first and foremost. Try to dial it in, get a few in. That's it. Usually the less I worry about, the better I play.
Q. On the draw again, people are saying it was open when Cilic lost today. Did that feel like a moment when it officially became open?
SAM QUERREY: Yeah, I mean, everyone was watching that in the locker room. It felt a little open even before he beat him, I think partly because Marin hasn't even played this summer. He's obviously really good. But he came in here with very little preparation. Even before that I think guys saw that it was open.
Q. Are guys rooting for the upset in that situation?
SAM QUERREY: I don't know. I didn't really care either way. I didn't play the winner or anything, so I didn't really care.
Q. How would you describe the effect of the health of certain players? What effect have all the withdraws had on the sense of opportunity here?
SAM QUERREY: Yeah, I mean, not only here, but in Montreal, in Cincinnati a little bit, too. Guys, there's just an opening right now for different guys to go far in Masters Series and Grand Slams, like you saw, you know, Dimitrov and Kyrgios in Cincinnati, here with the bottom half of the draw. It's a little more opportunity and kind of a freak year with all these injuries. Everyone is trying to do the best they can to make the best of a good situation for the rest of us, I guess you'd call it.
Q. With Mischa up on John, if you are facing him, what are your thoughts on that matchup, what it would depend on?
SAM QUERREY: I'm not sure. I'll have to talk with my coach Craig. It's tricky playing a lefty. Serves and volleys, chips the slice. I wouldn't call him a clean ball-striker. He gives you a different look at a ball every time, which can be frustrating.
I'll sit with my coach. I'm assuming he'll know what to do. That's why he gets the big bucks.
Q. How big was Wimbledon for you in terms of your own belief in how far you can go at slams?
SAM QUERREY: It was pretty big. I mean, I felt good before that tournament. I felt pretty confident beforehand. Even if I didn't make the semifinals, I still feel like I'd be playing well right now and still have the confidence.
But it was more exciting than anything to make the semis.
Q. You've been playing a lot of big matches in the United States in your career, Davis Cup. This afternoon seemed like you had a pretty good crowd support. Does that make you want to be a more emotional player? Some people say it's hard to get behind you because you're not very emotional.
SAM QUERREY: No, I mean, I play my best when I'm not too emotional either way. If I change that based on the crowd size, something bad will happen.
I get what you're saying. Like it is tough. But I'm just doing what I do, keep my emotions pretty levelheaded. People can come out and watch if they want. If they don't want to, they don't have to.
Q. What would the opportunity to play John out on presumably Arthur Ashe in front of a home crowd be like?
SAM QUERREY: It would be fun. We've played each other a handful of times. To have it be in a Grand Slam, round of 16, that hasn't happened in a long time. It would be really fun. It would be cool for the fans, fun for John and I. Got a little work to do, so hopefully he can turn it around here and win these next three sets so we can do that.
Q. Serena Williams had a baby today.
SAM QUERREY: I didn't know she had it.
Q. What are your thoughts on her comeback to the tour eventually, what you would expect from her, and what sort of future do you think her baby girl will have in tennis?
SAM QUERREY: I mean, as far as her coming back, if she wants to come back, it would be great to have her. She's amazing for the sport. Fun to watch. If she doesn't, she's had an incredible career. Whatever she decides to do is great with her.
If her little girl plays tennis, I'm sure she'll be a great player. I don't know if she'll play tennis. Who knows.
Q. When you first came on the tour, you were known as a big server, typecast that way. Do you feel like you always had a complete game or is it this year it's come together?
SAM QUERREY: I feel like I always had it, just better now. All around, recognizing the opportunities to move forward. My backhand is definitely better. I feel like my return is a lot better. I feel like my intangibles are a little better. I just feel like every part of my game is a little more complete now.
Sam querrey us open - Yahoo Search Results
sam querrey us open
Sam Querrey's bios, stats, and information for all Men's and Women's players at the 2017 US Open Tennis Championships.
Sam Querrey | Overview | ATP World Tour | Tennis
American Sam Querrey will look to reach back-to-back semi-finals at a Grand Slam for the first time in his career when he meets Kevin Anderson.
Kevin Anderson beats Sam Querrey in US Open last eight to .
Kevin Anderson beat local favourite Sam Querrey 7-6(5) 6-7(9) 6-3 7-6(7) to reach his first grand slam semi-final on Tuesday.
US Open 2017: South Africa's Kevin Anderson beats Sam Querrey .
South Africa's Kevin Anderson ends American hopes in the men's singles as he beats Sam Querrey to reach the US Open semi-finals.
Kevin Anderson beats Sam Querrey in US Open tennis to spoil .
The victor became the first South African to make a US Open semifinal in the professional era.
Kevin Anderson in US Open semi-finals after beating Sam .
Kevin Anderson is through to a Grand Slam semi-final for the first time in his career after a late night triumph over Sam Querrey.
Sam Querrey loss means no American man will make U.S. Open .
Sep 05, 2017 · With Sam Querrey's loss, no American man has made U.S. Open semifinals since 2006
US Open 2017: Maria Sharapova, Garbine Muguruza exit .
US Open 2017: Maria Sharapova, Garbine Muguruza exit; Americans Sam Querrey, Venus Williams march ahead
U.S. Open Results: Kevin Anderson Beats Sam Querrey to Reach .
Sep 05, 2017 · Twenty-eighth-seeded Anderson beat 17th-seeded Sam Querrey. He will face 12th-seeded Pablo Carreño Busta in the semifinals on Friday.
Sam Querrey - The Championships, Wimbledon 2017
View the full player profile, include bio, stats and results for Sam Querrey
Sam Querrey beats Mischa Zverev to progress at US Open, Daily Mail Online
Sam Querrey demolishes Mischa Zverev in straight sets to reach US Open quarter finals
By Reuters 09:44 BST 04 Sep 2017, updated 10:32 BST 04 Sep 2017
Sam Querrey is the first American to reach the Open quarter-finals since 2011
Querrey inflicted a 6-2 6-2 6-1 demolition of Mischa Zverev at Flushing Meadows
Next up for Querrey will be South Africa's Kevin Anderson for semi-final place
Anderson was a 6-4 6-3 6-7 (4) 6-4 winner over Italian Paolo Lorenzi
Sam Querrey, the last American man standing at the US Open, would not be knocked off his feet as he strolled into the quarter-finals at Flushing Meadows with a 6-2 6-2 6-1 demolition of Germany's Mischa Zverev on Sunday.
What looked an intriguing matchup of styles between the big-hitting American and Zverev, a left-handed serve-volleyer, was rendered a one-sided show for a delighted capacity crowd at Arthur Ashe Stadium.
Querrey, looking to followup his semi-final run at Wimbledon with an even better effort at Flushing Meadows, needed just 77 minutes to dismiss the German to become the first American to reach the US Open quarter-finals since Andy Roddick in 2011.
It was a ruthless performance by Querrey as he bombarded Zverev with 18 aces and avenged the German's victory over top seeded American John Isner in the third round.
'I really could not have done anything much better out there, I was kind of in the zone. It's my first time playing out here at night and I wanted to make the most of it,' said Querrey.
Related Articles
'I came out of the chute hot and once I broke early I felt I was off to the races and I felt comfortable three minutes into the match and I think that was the key.'
Querrey stormed out of the gate breaking his 30-year-old opponent at the first opportunity and again to clinch the opening set in a lightning quick 24 minutes.
After tearing through the second set, Querrey charged to 5-0 in the third as Zverev, who opened the tournament with two five-set matches, appeared completely out of gas.
Next up for Querrey will be South Africa's Kevin Anderson who was a 6-4 6-3 6-7 (4) 6-4 winner over Italian Paolo Lorenzi.
'He's got a big game, he's got a big serve, he goes for the big shots,' said Querrey. 'It just gets tougher the further you go and that is going to be my toughest one yet.
'Anything from here is a bonus, I'm just going out and going to play the best I can.'
Baseline: US Open Profile: Sam Querrey
US Open Profile: Sam Querrey
Ahead of the action starting on Monday, Baseline will feature a slew of players to watch out for during the US Open.
Sam Querrey
Career-best U.S Open run: 2010, round of 16
2017 High: While Sam Querrey isn't known for going deep at Grand Slams, but he's known now for making the biggest upsets. He shocked an admittedly lackluster Andy Murray in Wimbledon to reach his first Grand Slam semifinal, which he lost to Marin Cilic. Defeating Rafael Nadal to claim the Acapulco title was another highlight of his season.
2017 Low: The American didn't fare as well on the clay this year, falling in his opening round at Roland Garros to a No. 67-ranked Hyeon Chung. He failed to put together more than two match wins in a row on dirt.
Best Social Media Moment: The 29-year-old doesn't post on Instagram often, but when he does, you can count on a picture of his dog Lou, or his girlfriend, or both.
A post shared by Sam Querrey (@samquerrey) on Jul 19, 2017 at 4:57pm PDT
US Open outlook: Surprisingly, Querrey has yet to make the second week in the US Open. However, with his recent climb to the Wimbledon semifinals, and top players like Djokovic and Stan Wawrinka out for the season, this may be his chance to ride on the waves of his Grand Slam splash. He needs to keep his confidence, and winning his 10th career ATP title in Los Cabos last month should help.
MORE STORIES
Court of Appeals: One hopper
Court of Appeals: Stray ball
Top eight step out for WTA Finals draw ceremony
get the latest news
© The Tennis Media Company. All Rights Reserved 2016.
You're using an older, unsupported browser or device. We recommend updating to the most recent version of your browser or device.